Are you an interior designer and you always have to find out something new and amazing?
My bigger works are more suitable for decorating spacious rooms in hotels, restaurants or office buildings rather than homes (although a wide living-room can accommodate a tree of 2-3 metres (2-3 yards) as well). They could serve as determinant elements of the unique interior.

For the interior designer, an exclusive assignment entails considering myriads of options. He or she has to dig up hundreds of catalogues issued by major companies to choose from beautiful draperies, floors, furniture in order to create the basic atmosphere of the place.
In addition to that, the designer has to crown all the work – he or she needs a major piece the investor will love! He has to select an object to decorate the reception, the lobby or the living room, something to catch the eyes of visitors to such an extent that they immediately start admiring it, touching it, taking pictures about it because it is so unusual.

If you think, a video would help a lot to imagine a wiry tree like this, please click on the image below.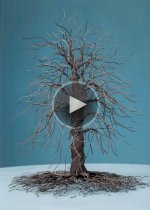 ---
Hotel Club Tihany**** is located at the most exclusive region of the Lake Balaton, in Tihany. This is the compelling decoration of the newest Tuscan style restaurant in the hotel. This work of art is 2.1 metres wide (2.3 yards) and it has a background illumination with 17 lamps. The colours of the installation nicely match the tones of the interior.

"A couple of years ago, we opened a new restaurant with a capacity of 300 persons. The room had the style of a winter-garden: huge glass surfaces, breathtaking panorama, many indoor plants. We had only one wall – and it was empty. Therefore, we had bought the illuminated wall decoration that was offered as a reference. The 'wiry tree' proved to be an excellent choice as it was a perfect match for the atmosphere and the wall was not so dull anymore. Both our guests and the employees just love this lively tree."
Dr. Gyula Molnár, General Manager
Hotel Club Tihany**** Tihany, Hungary
00 36 87 538 521
www.clubtihany.hu
---
Hotel Apolló **** was opened in Hajdúszoboszló in 2008. The biggest medicinal bath of Hungary is often referred to as the Mecca of patients suffering from rheumatic problems.
Visitors can choose from several elegant hotels around the spa. When building a new hotel, it is crucial to create new style and unique appearance so that it attracts the guests much better than the older hotels. Hotel Apolló **** is special because of its excellent wellness spa, exclusive furniture and interesting lamps. My works were recommended to the owners by the interior designer of the hotel. Based on the plans and my references, the management of the hotel decided to buy one of my decorations to be the major element at the reception. According to the owner, guests love the tree, they always take pictures about it.
---
The following work of art is an exclusive decoration in a restaurant at the Lake Balaton
---
The following works create unique atmosphere in an office, lobby or meeting room.
---
The following works are ornaments of an elegant living room. The owners are very proud of them!
---
Wire-tree, tree-miracle, wonder-tree... a wiry miracle!
Yes, it is indeed a wiry miracle. When I first saw it at the reception of an office building, I immediately knew that I wanted one. Also a technician like me may love arts. Often, the sense of beauty of people like us can be even more refined: just think about the Concorde or a beautiful Lamborghini.
My story begins in Aliga (at the Lake Balaton) at a sailing match where we had high wind. I saw a beautiful weeping willow at the port, torn by the wind. It was such an impressive sight that I had to take a picture.
Then, I saw the same windy tree made of wire and I knew right away what would be the Christmas present of my wife.
This is the story how a unique work of art, a speciality and a memory from the Lake Balaton met, to the great delight of us, friends and relatives.
Today, the tree stands on a glass shelf. In a way, it drifts in the room, just like the real tree at the waterside. The picture of the original tree stands next to it. The special illumination gives an extra effect to it.
It is beautiful. Thank you!

Géza Voltay, Budapest, Hungary
---
Now, I write you why we chose your work of art, the wiry tree for our living room. I strongly recommend others to read my letter – maybe they also buy one.
Three years ago, we bought a new house. We totally re-structured and renovated it. We asked an interior designer to help us as we knew this was a serious job and we were not skilled in that. We told the designer to create a welcoming, pleasant and warm home, with no parade or glamour. We also asked to choose some unique items – not the most expensive ones, if possible – that could not be found anywhere. We spent a lot of time together, selecting all the necessary things. Thus, we went to an interior design exhibition in Budapest. We looked around but we had not seen anything special. Then, we noticed the trees of Roland at one of the stands. We looked at each other and we immediately knew that we wanted 'him'. We found an individual decoration for the flat that was unusual, unique and special.
We had built-in shelves at both ends of the living-room. We put the illuminated tree to the one end of the room. Before that, the empty shelves had been just standing for a year, with all the unused wiring. We had no money to finish works but we knew that it was the perfect place for an illuminated tree. We were waiting to find Roland and order a tree. Finally, time had come for that. We were so happy. I wanted a weeping willow because I used to live at the Tisza river as a child. The willow woke memories of the past: when I looked at the tree, I remembered my deceased parents.
Roland had created the tree and came to our place in Nyíregyháza. He installed the decoration.
We love our trees, we always switch on the illumination in the evening. The tree has a pleasant orange light that warms our hearts. For us, it is more than a wiry tree: it is rather a tree of life since this tree remembers me my parents and connects my current family. So, it connects several generations and families. For me, this tree is not a work of art but a part of our lives.
As it is said, it is not wise to stick to objects. I think, that is right. At the same time, there are a couple of objects that are especially important for me because of memories or the joy they are connected to. These objects are more than objects in my eyes. Our Tree of Life is right an object like that! Of course, all our guests become enthusiastic when seeing the tree. They keep on telling how special and beautiful it is. But they do not know about the greatest miracle of all: that this tree connects, embraces and protects my family. You only have to believe in it!
Well, this is the story of our wiry tree. Roland does not know how we are delighted at it. No he knows. Thank you very much!

Tóthné Vitai Klára, Nyíregyháza, Hungary
---
I chose this work of art because it is unique and special. It is more than a decoration or a picture. I think, its special character lies in the fact that it is laboursome and takes a great deal of creativity and imagination. It is not conventional, not a stereotype. This tree is almost living and attracts a great deal of attention. It cannot be missed. I put my tree to the most frequented corner of my exhibition room. All our visitors have a positive opinion about it. I hope this will be the same in the future as well.

Dickmanné Sipos Zsuzsanna shop manager
Eglo-Lux Kft, Dunakeszi, Hungary
00 36 27 341 353
www.eglo.com
---
Since our company, FUX Zrt is literally dealing with wires – we produce covered and naked wires for the electric industry – this raw material is of special importance for me. Many years ago, when we equipped the meeting room of the firm, I remembered that I saw your works on television. I said to the colleagues that it would be a good idea to show this type of utilisation of wires. We managed to have a catalogue and we chose a wall mounted version. The tree is one of the ornaments of the meeting room ever since.

Dr. István Barkóczi, general manager
FUX Zrt. Miskolc, Hungary
00 36 46 501 850
www.fux.hu
---
Your wiry tree is special and truly modern. It represents 21st century. Its style gives an extra tone to the atmosphere of our restaurant. The copper wire and the extraordinary shape of the tree provide aesthetical picture, pleasing not only us but also our guests.

Shiraz Restaurant, Budapest, Hungary
www.shirazetterem.hu
---
My works will be delivered to any point of the world
If you are inspired by the works above or you have a brand new idea, please feel free to contact me and ask for an offer (without obligation). I am sure, together we can find the best decoration for your home, hotel or office.
Standing trees – 0.8-2 m high (0.9-2 yards) –, wall decorations – 1-6 m (1-6.5 yards), illuminated wall installations ... all boost the spirit! Normally, I use patinated wire but if you whish, I can use nickel, silver or 24 carat gold coated wire as well. There are no limits to opportunities – maybe just imagination!
Of course, you can order the trees you see in the pictures. Since I cannot create the same tree twice, your tree will only be similar to the one selected. Do not forget that your tree is unique and irreproducible! I can guarantee that!